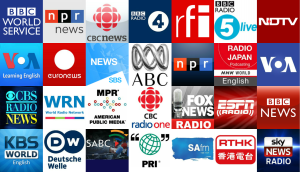 With over one million "listens" on the 1 Radio News Pro and Free apps, here are the world's top ten radio news headline sources based on actual use.
Have a listen. On-demand.
Then try the Android app or sign-up for the future iPhone version.
As a bonus, the next six most popular sources are KBS Korea, EuroNews, FSN US, Learning English VOA News, Daily Grind India, and DW Germany.
Our mobile app's Play All feature simply plays headlines one after the other. On the Pro version, you can sort your favorites from hourly sources and the best 300+ on-demand daily and weekend radio shows in English that we carefully selected from dozens of countries.
With app listeners from over 200 nations and major territories using 1 Radio News, our audience is very global. 35% of our Free version listeners are from the United States with South Korea, India, Japan, Canada, the United Kingdom, Taiwan, Thailand, Spain, and Nigeria rounding out our top ten countries in terms of frequent free app users.
Stay tuned for our list of the world's top ten radio news streams and then our list of the world's top ten daily news magazines made available as podcasts.
Also, there are many radio news sources that haven't woken up to the idea of sharing their hourly news headlines as full podcasts … here are our tips on reaching a wider audience on-demand with "hard" news radio not just niche programs or storytime.