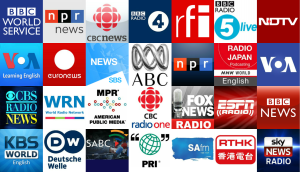 With over one million "listens" on the 1 Radio News Pro and Free apps, here are the world's top ten live news radio stations (web streams) based on actual use. Previously we shared the world's top ten radio news sources on-demand.
Have a listen. Live.
… then try our Android app or sign-up for the future iPhone version.
BBC World Service – UK
BBC Radio 4 – UK
NPR – US
CBC Radio 1 – Canada
American Public Media (via Minnesota Public Radio News) – US
NDTV Audio – India
VOA – US
ABC National – Australia
World Radio Network – 10+ countries
Public Radio International – US
As a bonus, some more popular news radio streams include BBC Radio 5 Live, KBS Korea, SA FM South Africa, Radio Sputnik Russia, MyTalk US, BBC London, Fox News Radio, Antioch Radio Old Time Radio US, and Deutsche Welle English Germany. Some of these stations are part of our "Pro" app with 200+ hard to find stations – they are free on the web somewhere IF you can find them. With our app, we filter out most of the music so you can find quality news, talk, and other spoken-word programming. Of note are our many "island" stations with English-language news/talk mostly in their morning and music the rest of the day.
Our mobile app's Play All feature simply plays headlines one after the other from our top ten headlines list on the top and provides the top ten plus live streams below. On the Pro version, you can sort your favorites from scores of live news stations, world services/external services, and unique spoken word stations as well as on-demand hourly sources and the best 300+ daily and weekend radio shows in English that we've carefully selected from dozens of countries.
With app listeners from over 200 nations and major territories using 1 Radio News, our audience is very global. 35% of our Free version listeners are from the United States with South Korea, India, Japan, Canada, the United Kingdom, Taiwan, Thailand, Spain, and Nigeria rounding out our top ten countries in terms of frequent free app users.
Related: See for our list of the world's top ten radio news sources on-demand and watch for our list of the world's top ten daily news magazines made available as podcasts.