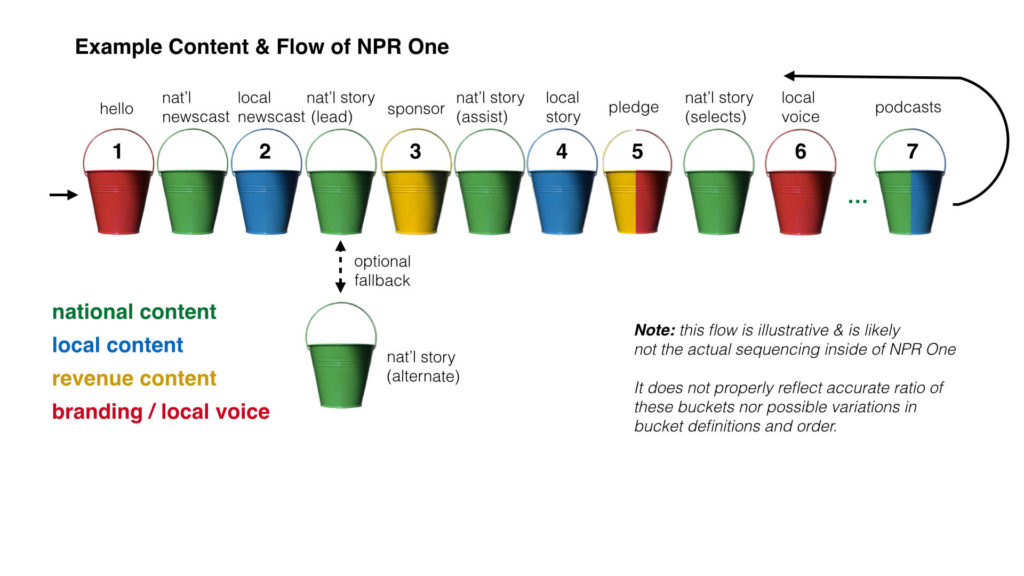 The other week our good friends at US-based National Public Radio shared a very interesting nugget from the NPR One app experience:
"… the presence of a local newscast is the 'single biggest indicator that a user will return to NPR One,' and NPR One can open up local stations to new audiences well beyond their geographic tower areas."
That's great. People love radio news … when it is fresh.
Do more. Local radio stations and state networks can do more to maximize their digital on-demand listener reach.
Some ideas:
News matters, embrace it – Yeah, the hype about the next niche podcast is loud, but if you don't prioritize getting your existing news into the on-demand ecology, your station is missing an opportunity to build your relevancy for today's mobile/digital on-demand listeners.
Headlines on your website – National broadcasters like Radio New Zealand do it right with their hourly bulletins right a top their news section. Your station might even place it on your website header next to your live stream. Appending various promotional audio after your headlines is a also great opportunity to promote future live programming, new podcasts, pledge drive messages, etc.
Static MP3 file for your latest headlines – A number of top global new sources for years have updated a simple MP3 file – the BBC and others do this
Podcast web feed for news headlines – While NPR, FOX and other national broadcasters do this, Minnesota Public Radio is one of the only local/regional stations we can find with a feed for their (often M-F daytime) hourly news . Yes, add your headlines to NPR One, but don't lock yourself into one app. Make sure your headlines are accessible on your own app but also the wide podcast ecology
Podcast web feed just for full news shows – There are a number of quality news sources like RTE from Ireland and other who either mix story by story items with full shows or just put out a list of stories. While it is OK to have by story feed, for your signature radio news magazine have a clean feed with just your full show. Forcing people to chose stories one at a time doesn't let users "set it an forget it." People just want to press play and do other stuff while they listen to your news not get their wet dish water hands on their phones to pick the next story in their podcast app to download. Offer more feeds for niche repeated programming rather than just mega feeds with multiple shows all bunched together. For example that RTE feed could also offer just a Sports News feed for example. ABC in Australia does something interesting with thematic by subject feed options as well.
Get on iTunes – While you should never just display your iTunes feed on your site, getting each of your podcast feeds into iTunes will feed your directory content to whole of the podcasting ecology including to most Android users who use many different podcast apps that often offer iTunes powered searches
Get in Stitcher, Google Play Podcasts, others – Take the time to submit your feeds to major podcasting directories. Don't be so iTunes-centric. Most people are now on Android, just not media types and folks with money.
Send Us Your News Podcast Links
While there are a number of signature daily news shows from local US public radio stations/networks in our list of the top 350 radio news shows around the world (in our Pro app), we'd love to add more hourly and daily news headlines and shows from around the US public radio and beyond. Our new iOS version in development will also add a bunch of discovery features to help people find more news options by place. If you do #3 or #4 above (or already do), send us your details via email.