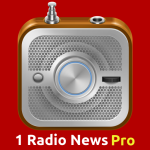 After many months of work, we've added a new showcase of nearly 200 on-demand high quality radio news (mostly) shows and podcasts, including daily and weekly shows from 30+ countries in English.
Our amazingly 4.9 rated Pro app has a special shortwave Global Showcase with 30+ mostly daily shows from all around the world not found with this level of coverage in one convenient place on any other app. If you love "shortwave" news programming but want to listen on your own schedule, this is your dream app.  The app includes many shows no longer available on shortwave like Radio Sweden as well as shows in English from places you didn't expect like Mongolia.
In the Pro app we've tossed in a few additional showcases of weekly shows including a pack of Science/Environmental shows, a Kids collection (like stories I can play for my kids), and a learning English set of podcasts.
Our free app, in addition to the new headline sources, includes a Pro Showcase sharing some daily news shows highlighted from our Pro collection, for all to enjoy for a limited time. (With our paid app, it is the convenience and careful show/stream selection and NOT the radio content for which you are paying. If you have time, you can find the buried gems across the web.)
Podcasts?
In addition to daily shows, we've culled through podcast popularity lists for major countries and identified many of the most popular news-related shows as well as popular "podcasts" of entertaining weekly shows from major public broadcasters and others. We have more to add, but are being very selective despite nearing 200 on-demand shows.
Unlike often complicated podcast apps, we simply play the latest episode of frequently updated shows with one button. While not as fast as streaming, most shows start within 10 seconds. If you actually want to go back and listen to old stuff, get yourself a podcast app or visit the stations directly.
Future Features
Radio news junkies looove us and a 4.9 rating makes 1 Radio News Pro one of the highest rated paid apps on Google Play with a real user base.
However, let's be honest and note that 1 Radio News is a bootstrapped micro start-up at this point.
1 Radio News is essentially a hobby with a chance of becoming a go-to app for a million or more radio news listeners seeking the most convenient access to news and information via mobile and other devices. However, only IF you and everyone who loves this app helps spread the word will we bring quality radio from diverse global sources to more people. Most of our potential users have no idea what they are missing! (And we don't have the million dollars needed to advertise ourselves to a million downloads … yet. ;-).) So please share on Facebook, Twitter, LinkedIn and via email.
Revenue from more Pro app sales and more free users clicking on the very non-intrusive ads we run will go straight into new features. So, for version 3.0 we need to reach at least 25,000 downloads up from 10,000. We are building momentum with more than double the number of daily users and new daily installs over a few months ago.
Future feature ideas include "pre-sets" or favorites, sortable play all list for on-demand, sleep timer, alarm clock, and others. Some features may become in-app purchases in the free version. See the button within the app to our Google+ 1 Radio News Beta community or contact us at comments@1radionews.com to ask for an invite to join our Beta team.
A huge thanks goes out to our lead developer William Seemann for his work on the app since day one. We may engage additional developers to help us as our "day jobs" keep us busy, so get in touch if you are passionate about mobile app development and radio news on Android, iOS, Windows 10, Roku, and/or other platforms.
Thank you for being a 1 Radio New fan!
Steven Clift
1 Radio News Guy – Show/stream selector, app promoter and owner.