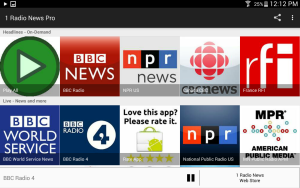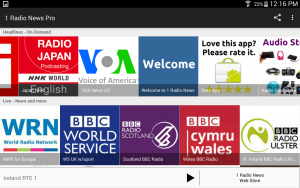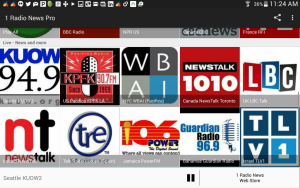 Did you pick up a new Android tablet or phone over the holidays?
Perhaps you have an older Android smart phone looking for a purpose?
Or some other whiz-bang new Android device you found from our list of top gear?
In the new year, now is a great time to turn your device into an easy to use world radio for news.
And we just added new stations from three countries to our free app and just tripled the number of radio news stations on our "Pro" version  to over 65.
Three key audio/radio-lover "must do" steps:
Why add 1 Radio News to your app mix?
Great Radio News Stations – We've found the best English-language sources from around the world and put them together for you in one handy app. Hours and hours curating the best for you.
Quick – The quickest station changing we can find. 1 Radio News is fast.
Headlines – The only Android app with a collection of on-demand hourly radio news headlines. Play-all option.
Easy – Can you swipe and press a button? You can use with one hand. If you really just want radio news, this is the easiest app to use.
Be Surprised – Embrace the serendipity of live news, talk, and cultural radio. Discover what's on and relax. Key is to get the gear you need to actually listen comfortably.