1 Radio News "pro" version has over 100 live news (and more) streams in English from every corner of the globe.
Our free radio app includes popular streams like the BBC World Service, BBC Radio 4, NPR, SAfm, PRI, KBS, WRN, and others. Below is a list.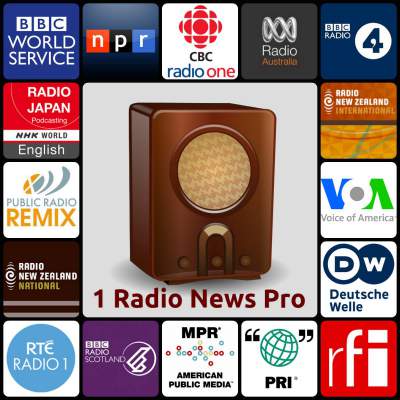 Free Version – Live Stations
BBC World Service – News-only
BBC Radio 4
CBC Radio 1 – Canada
National Public Radio – US NPR – Program stream
Minnesota Public Radio (American Public Media flagship station)
Public Radio International – US
Australian Broadcasting Corporation – Radio National
KBS English – South Korea
SAfm – South Africa's public "ideas" network
World Radio Network – for North America – Over a dozen global "shortwave" broadcasters
Pro Version*
The stations just above, plus these awesome, tested stations below. Stations are carefully selected for their variety of original programming.

BBC Radio 4 Extra
BBC World Service UK version with sport
BBC Radio Scotland
BBC Radio Wales
BBC Radio Ulster (N. Ireland)

BBC London

RTE 1 – Ireland
RTE 1 Extra – Ireland
World Radio Network (for Europe)
PRX (Public Radio Exchange) Remix – US
Radio New Zealand National
Radio New Zealand International
Radio France Internationale
Voice of America – English
Radio Australia International
ABC NewsRadio – Australia
Global 24 – Multiple global broadcasters, some music
Deutsche Welle – Germany (multiple languages)
Radio Sputnik – Russia
Radio China International
Spectrum UK (w/Radio China International)
Radio Hong Kong 3 (in English, mostly music)
Radio Thailand (in English, mostly music)
Chicago Public Media – WBEZ
Philadelphia – WHYY
San Francisco – KQED
Wisconsin Public Radio – Idea Network
NYC – WNYC
NY Northeast Public Radio – WAMU
Seattle KUOW2 (Global news mix)
Los Angeles Pacifica – KPFK
New York Pacifica – WBAI
C-SPAN Radio and television audio
CNN television audio
UK SkyNews television audio , UK
Namibia National Service
NewsTalk 1010 Toronto , Canada
LBC – Leading Britain's Conversation
NewsTalk, Ireland
Talk Radio Europe, Spain
PowerFM 106, Jamaica
TLV1, Israel
Cape Talk, South Africa
Nigeria.Info Radio
NewsTalk ZB Auckland, New Zealand
2GB Sydney, Australia
3AW Melbourne, Australia
938Live, Singapore
Malaysia Business Radio BFM, Malaysia
World Radio FM Tawa, New Zealand
And now testing … (note that carefully selected Caribbean island and English language stations in non-English speaking countries tend to have news and talk during their mornings and then switch to music) :
Monocle 24    UK
Fox News Radio    US
Channel Africa    South Africa
World Radio Switzerland    Switzerland
Vienna International Radio    Austria
Israel National News    Israel
Dubai Eye    United Arab Emeriates
BBC Radio 5 Live    UK
Voice of Barbados    Barbados
Antigua Observer    Antigua
Radio Cayman One    Cayman
Grenada CHIME    Grenada
Dublin City FM    Ireland
WAOK Atlanta – Black Talk Radio    US
WCCO Minneapolis    US
KFI Los Angeles    US
WBAP Dallas – Conservative Talk    US
WCPT Chicago – Progressive Talk    US
myTalk – Social Talk    US
Rural Radio – KRVN Nebraska    US
UK Resonance    UK
UK Cornicopia    UK
British Public Radio    UK
WTOP DC – News    US
WBBM – Chicago
NYC – 1010 WINS
NYC – WCBS
KCBS – San Francisco
KGO – San Francisco
AM640 – Toronto Canada
VOCM – St. Johns, Newfoundland Canada
Old Time Radio – 1710 AM Antioch
US Blaze Radio – Conservative Talk
Free Talk Live – Libertarian
euroNews English
Radio Belarus
TWiT.tv Audio – Technology
Alaska Kodiak Public Radio KMXT
Melbourne Community Radio 3CR
Australia Outback Radio 2WEB
ABC Darwin Australia
ABC Sydney 702
Perth Australia 6PR
U.S. local public radio news stations carefully selected out of dozens of possible stations for their selection of original programming. Listening to the station in the morning, U.S. time that it, will present the most variety.
*See our schedule page with links to the stations. 1 Radio News provides the quickest and most convenient app on Android for listening to multiple news stations in one integrated app. Almost all these networks provide their own individual mobile apps. If you have the right media players or Flash, you can also take the time to visit stations one at a time online. This is an independent app which plays publicly accessible web streams provided by these stations. There is no implied endorsement of 1 Radio News by these broadcasters.