We blogged previously about how we cracked the top ten for the search "radio news" and struggled to rise for those searching Google Play for "news radio."
We've been #1 for "radio news" above Fox News Radio, CBS Radio News and others for months now. We are normally #4 for the more searched "news radio" term too!
Because we are best app to listen to what are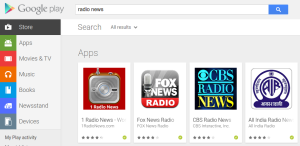 classically known as shortwave radio stations, we are #2 for shortwave, and shortwave radio. Google doesn't tell us which organic searches lead to the most downloads, but we are glad to have so many new users.
According to App Annie, we rank in the top ten for searches like "hourly news," "world news radio," "public radio news" and "talk radio." Today we are #28 for "world news" but for the grand daddy that we need to break out, we need to show up when you simply search "radio" on Google Play. Can a news/talk/culture focused radio app break in on such a search with all the music filled apps? Time will tell!
10,000 Downloads
Our big news is that our free 1 Radio News app, crossed the 10,000 download mark. In fact, we've crossed the 12,500 mark!
Of course, the number Google doesn't share publicly is the uninstall rate. With our rise in the search results and our more attractive icon, we have lots more people trying out our app.
Bottom line, we've gone from 70 active app users a day in December when we released Version 2.0 to 450 a day in August 2015 with the rate of increase accelerating. With a quality high rated app like 1 Radio News, there is no reason in a world that shipped 1 billion new Android devices last year, that at least 1% who know English would like to listen to some radio news on their device. That's 10,000,000 potential users. Say 10%, or 1,000,000 have the app installed and 10% used it each day, that would be 100,000 daily users. First up, getting to 1000 daily users, then 10,000.
To get there, we need to be discovered by a high profile app reviewer who says "now that you have Pandora or Spotify for music, get your radio news and more from 1 Radio News." 🙂 If that's you, let's talk.