Wow, we've built quite a playlist for world news radio with our 1 Radio News Pro app. Radio on-demand is best when served fresh – so we focus on hourly, daily, and weekly programs.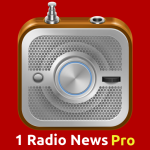 Here are the best 350+ shows from 65+ countries all in English that you can play on-demand via our Pro app for Android.
This represents at 1,000+ hours of scouring the net for hard to find news radio on-demand from reputable sources and places you never imagined with at least some English language programming. Unlike iTunes and other often complex podcast apps cluttered with a gazillion old episodes sharing 100x more opinion than hard news, we simply play the latest fresh episodes on-demand from this hour, today, or this week. Radio on-demand is best when served fresh.
(The list is subject to change. In some cases you must listen via the web because they don't have podcasts. Most are news mixed with a bit of entertainment, storytelling and top podcasts like our Presidential Podcasts. P.S. With our upcoming iOS release, we are introducing creative ways to browse and search these many offerings.)

5 Live Science BBC 5 Live
6 Minutes English BBC – Weekly
99% Invisible
ABC 20/20 (Audio)
ABC News Radio (US)
ABC This Week with George Stephanopoulos (Audio)
ABC World News This Week (Audio)
AP News
Academic Campaign Context (from Finland)
Africa Link DW
Africa News Tonight VOA
Africa Today – BBC World Service
Alaska Nightly News
Albania (Radio360.eu)
All Ears English
All India Radio News
American Radio Works Documentaries
Asia News Weekly Podcast
Au SkyNews Market
Aust Daily Telegraph Podcast
Aust Rural News
Australia AM News ABC
Australia All Over ABC
Australia Background Briefing ABC
Australia Conversations with Richard Fidler
Australia Correspondent
Australia Country Hour, Weekly Best of
Australia Drive ABC
Australia Hack Triple J ABC
Australia Hamish and Andy
Australia PM ABC
Australia Pacific Beat
Australia SBS World News
Australia Saturday Extra ABC
Australia Sunday Extra ABC
Australia Weekly Post ABC
Australia World Today ABC
Austria News – O1 Report from Austria
Austria ORF Reality Check
BBC Best of Today Radio 4
BBC Business Daily World Service – UK AM
BBC Business Matters World Service – UK PM
BBC Business World Report World Service – UK Midday
BBC Comedy of the Week
BBC Daily Commute
BBC Friday Night Comedy
BBC From Our Own Correspondent
BBC Global News (Twice Daily)
BBC In our time – History
BBC Infinite Monkey Cage
BBC Minute (youth audience)
BBC Movie Reviews
BBC Radio
BBC Scotland Business (Weekly)
BBC Scotland Morning
BBC Six O'clock News Radio 4
BBC The Archers (Daily)
BBC Ulster Nolan, Best of
BBC Wales Sunday Supplement
BBC Westminster Hour Radio 4
BBC Woman's Hour Radio 4
BBC World Business Report
BBC World Have Your Say World Service
BBC World Tonight Radio 4
BBC World of Business Peter Day (Weekly)
BBC4 Seriously Documentaries
BBCWS Documentaries
BBCWS Fifth Floor (Intl correspondents in English)
BBCWS Inquiry
BBCWS Newshour
BBCWS World This Week
Backchat RTHK
Bangladesh Batar News
Best of Our Knowledge US PRI
Bloomberg All Podcasts
Bloomberg Brief
Brain Trust Live – For aspiring fact-knowers
British Tech News Network
Brussels Radio X
Business Irish Times
C-SPAN Washington Today
CBC Because News
CBC Comedy Factory
CBC Definitely Not Opera
CBC Irrelevant Show
CBC Laugh Out Load
CBC Vinyl Cafe
CBC q Arts Show
CBS 60 Minutes Audio US
CBS Eye on Washington
CBS Face the Nation Audio US
CBS News Weekend Roundup
CBS Radio World News Roundup (Daily)
CBS Reporter's Notebook
CBS Tech Talk Magid
CBS What's in the News
CNN Amanpour Audio
CNN Anderson Cooper Audio
CNN Axe Files (Audio)
CNN Erin Burnett Audio
CNN Running Mate Audio
CNN Situation Room Blitzer Audio
CNN State of the Union
CNN The Lead Tupper Audio
California Report KQED
Campaign Diary, Face the Nation (2-3 week)
Canada As it Happens CBC
Canada At Issues CBC TV Audio
Canada CBC
Canada Cross Country Checkup CBC
Canada Current CBC
Canada Day 6 CBC
Canada Doc Project CBC
Canada Ideas CBC
Canada Link RCI Weekly
Canada Power and Politics CBC
Canada Sunday Edition CBC
Canada The 180 CBC
Canada The House CBC (Parliament)
Canada Unreserved CBC – Indigenous
Canada World Report (morning CBC)
Canada World This Hour (afternoon CBC)
Canada World at 6 (evening CBC)
Canadaland Podcast ~2 Week
Central Time Wisc PR
Channel Africa Digest (Weekly)
Channel Africa Midday
Channel Africa Rise and Shine
China Beijing Hour CRI
China Drive CRI
China Roundtable CRI
China World News Analysis CRI
Click BBC World Service
Costing the Earth BBC Radio 4
DW Inside Europe
DW World Link
Daily Dose Weird News
Daily Tech News Show
Daybreak Africa VOA
Democracy Now Pacifica US
Discovery BBC World Service
ESL Podcast
Egypt Radio Cairo
EuroNews Radio
FT Listen to Lucy
FT News Financial Times
FT Politics Weekly
FT World Weekly
FiveThirtyEight Elections
Forum KQED San Francisco
Fox News Radio Hourly
Fox News Sunday US
France 24 Business Daily
France Intl Report RFI
France RFI
Freakonomics
Free Speech Radio News Weekly
Germany DW News
Germany World in Progress DW
Heritage RTHK Weekly
History – Presidential WashPost (weekly)
History – Whistlestop Slate (twice monthly)
Hong Kong Money Talk RTHK
Hong Kong Radio 3 Newsbulletin RTHK
Hong Kong Today RTHK
Ideacast – Harvard Business Review
India Big Fight NDTV (Weekly)
India Global AIR World Service
India Left, Right, Centre NDTV
India Newslaundry Podcast (Weekly)
India Truth v. Hype NDTV (Weekly)
India We the People NDTV (Weekly)
Ireland Callan's Kicks RTE Comedy
Ireland Documentary RTE
Ireland NewsTalk Breakfast
Ireland Playback RTE
Ireland Seascapes RTE
Ireland Sunday Misc RTE
Irish Times Inside Politics
Japan NHK
Jerusalem Post Podcast (Weekly)
Just Japan Podcast (Weekly)
Keepin' it 1600
Latin Pulse Latin America (Weekly)
Le Show Harry Shearer
Learn English In the News VOA
Learn English VOA Broadcast
Listen to English – Peter Carter
Living Planet DW
Living on Earth US PRI
Long read UK Guardian weekly
MSNBC Morning Joe Audio
MSNBC Rachel Maddow Audio
Maine, This Day in – MPBN
Malaysia Breakfast Grille BFM
Malaysia In Case You Missed It – BFM (Weekly)
MarketWatch Money, Markets & More
Marketplace Tech
Middle East Week Podcast (Weekly)
Miller Minnesota PR News
Minnesota MPR News
Mongolia (Radio360.eu)
Monocle Briefing
Montana
Morning Brew RTHK Weekly
Myanmar Radio (Radio360)
Mystery Show
NPR Ask Me Another
NPR Fresh Air
NPR Latino USA
NPR Planet Money
NPR Politics Podcast (2-3 week)
NPR Story of the Day
NPR US
NPR Wait Wait Don't Tell Me
NPR World Story of the Day
NZ Dateline Pacific Radio New Zealand
NZ News Radio New Zealand
NZ World and Pacific News Radio New Zealand
Naked Scientists
Nature Podcast
Nepal (Radio360.eu)
New Yorker Politics and More
News at 11 RTHK
Newswrap RTHK
O'Brien Mystery Hour, LBC UK
OTR Relic Radio
OTR Vintage Radio
Off Topic Irish Times Podcast
On Point Tom Ashbrook Boston WBUR
On the Media WNYC US
Oregon Morning News OPB
PRI The World
PRI Whad'Ya Know? Michael Feldman
Pakistan, How to (2-3 times week)
Paris News
Poland Warsaw Forum (Weekly)
Political Junkie with Ken Rudin
Politico Europe (~3/week)
Politico Off Message
Politico's 2016 Nerdcast
Polling Matters
Prairie Home News From Lake Wobegon
QI No Such Thing as a Fish
Quirks and Quarks CBC
RAE Argentina (Radio360)
Radio Drama Revival
Radio Havana Cuba (Radio360.eu)
Radio Poland News
Radio Prague
Radio Romania (Radio360.eu)
Radio Sweden (Weekly)
Radio Taiwan (Radio360)
S. Korea KBS News  (Twice Daily)
SA Burning Platform CliffCentral (Weekly)
SA Cape Talk Africa Report
SA Cape Talk Redi Tlhabi
SA Daily Maverick CliffCentral (Weekly)
SK Creative Minds South Korea KBS Weekly
SK TV News Today KBS Audio
SK This Morning eFM tbs
Science Friday PRI US
Science Hour BBC World Service
Science Update Daily
Science VS
Science in Action BBC World Service
Seattle Morning News KIRO
Seoul Calling South Korea KBS
Shortwave+ World of Radio w/ Glenn Hauser
Sky News Daily News Summary
Slate Daily
Slate Political Gabfest
Slate The Gist
Slate Trumpcast
Slovakia (Radio360.eu)
Slovenia (Radio360.eu)
Slovenia Weekly Highlights
Slovenia, Do you feel …
Smart Power Smart Woman CSIS US – Twice Monthly
South Africa SAfm News Bulletins
South Korea News KBS
Spain RNE
Spectrum DW
StarTalk Radio
Studio 360 Documentaries
Stuff You Should Know
SwissInfo Weekly
Syria Radio Damascus
TED Radio Hour
TIME The Brief
Tajikistan Voice of Tajik (Radio360.eu)
Tech News Today TWiT
Texas Standard
France 24 In the Papers
The Economist Audio
The Pollsters (twice weekly)
The Ticket 2016 – From Texas
This American Life
Turkmenistan (Radio360.eu)
TwentySixteen National Journal
UK Guardian Politics Weekly
UK Guardian Tech Weekly
UK SkyNews Update
UN News in Brief
US ABC Nightline (Audio)
US ABC World News (Audio)
US CBS Evening News (Audio)
US ESPN Sportscenter Update
US Feature Story News
US Here and Now NPR
US Marketplace Evening Report
US Moth Radio Hour
US NBC Nightly News (Audio)
US Native America Calling
US Native American News
US NewsHour PBS (Audio)
US Radiolab
US Takeaway PRI
US This Morning Gordon Deal (fmr WSJ)
USA Today 5 Things
USA Today Capital Download
USA Today Tech Talk
Undecided – Pacifica
VOA Global News
VOA Intl Edition
VOA News US
Vatican Radio News
Vermont Edition VPR
Vietnam loa (Activist, twice monthly)
Vox's The Weeds
WSJ Tech News Briefing
WSJ What's News
WSJ Your Money Matters
Web: Bulgaria
Web: Ghana Pulse
Web: Iran ParsToday
Web: Israel IBA World Service
Web: NZ Headlines
Web: Tunisia RTCI
Webber Minnesota PR News
What Happened HuffPost
Wired UK
Women's Irish Times Podcast
World Next Week Council of Foreign Relations US
World View Irish Times
Zimbabwean #KwiriCast (Weekly)
Find these shows AND 200+ live stations in our Pro app for Android. Or sign-up to get notified about our upcoming iOS release.