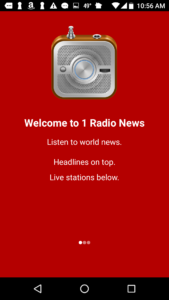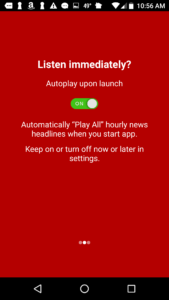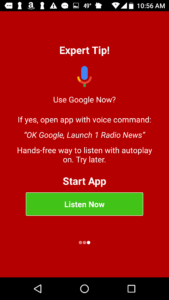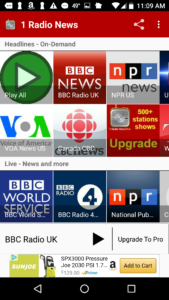 With all the hype about Amazon Echo and Google Home, you'd think there are hundreds of millions of these devices out there. One of their top advertised features is the ability to play radio news headlines with a voice request. Hey, great idea!
Why wait for a special device? Why not use your smartphone with your voice instead right now?!
That's the idea with our new "auto-play" upon opening feature.
Free listeners hear the PlayAll hourly news headlines automatically when they launch the app.
Pro listeners hear their personalised PlayMix favorites.
(Or, turn auto-play off and use the app like it usual.)
Add, the nifty, practically hidden option to launch apps on Android with your voice and you have an hands-free option to start the news when you need it. Just say:
OK Google, Launch 1 Radio News (Pro)
Depending upon your device settings, you may have to first unlock your phone or press the mic button in the Google Now search bar.
Become a 1 Radio News Beta tester here (free) or for our Pro version.
More Beta Notes
The most important goal with our current testing is to squash bugs.
As part of our direct engagement with the Google Play team (yes, they've discovered us and approved our free app for featuring), we installed code called Firebase which among other things will help us identify and squash bugs that might cause crashes across the 12,000+ devices that run Android.
If you read our reviews on Pro in particular, you'll see we go back and forth with our dedicated users to improve this app trying our best to serve as many device/Android version combinations possible. That's why we average a 4.6 or 4.7 rating.
However, we need your direct beta experience with the app to report those annoyances where the app doesn't crash BUT doesn't work as you would expect or as you would like.
By the way, with a previous release for Pro users, we added a sleep timer. Upgrade to Pro and fall asleep to 1 Radio News.
As we gear up for a crowdfunding drive to launch a major new 3.0 version of 1 Radio News on Android, we are planning one more high request 2.X feature – a more advanced audio player on Pro (and Free once we celebrate 100,000 downloads). Stay tuned.
As a "bootstrapped" effort (which means we don't have investors and instead are paying for software development based on actual revenue – which is small, but consistent), we are hyper tuned to your feedback on what you want with the freshest radio news headlines and diverse global live news radio sources. Our goal remains to make the freshest radio news easy to access on-demand within the hour or day it is still relevant and new.