We've done it! 1 Radio News Pro reached its 1000th paid install.
In fact, it is a great sign when your app is installed on more devices than you've sold. News radio fans love 1 Radio News Pro. Buy once and install on as many Android devices as you like tied your Google Play account.
With hundreds of carefully selected news shows and stations, a new favorites feature is on its way. Our "PlayMix" feature will let you craft your own mix of "Play All" headlines, shows, and live streams.
Like 30,000 people before you, you can try out the free 1 Radio News version before you upgrade. For many, our top ten headlines, shows, and live stations on the free version are all you need.
Where does 1 Radio News fit in?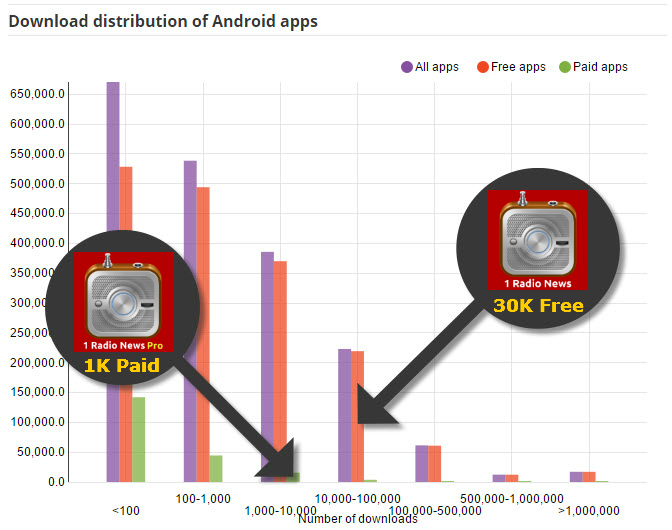 In the app world, they talk about the loooooong tail with over a million apps that few people download and even fewer use. See all those apps on the left side of the chart with fewer than 1,000 installs. Yikes.
In just over a year with version 2, we've solidly entered the middle body in the top third of apps install wise for both our free and paid versions.
Why? Radio news lovers who find our app, use it. If you want to listen to this hour's headlines or today's news from sources around the world, this is the fastest, easiest, and simplest app in the world.
While hot games tend to rocket up the charts download wise. People burn out on them pretty quick. It just so happens that News has great app retention and frequency of use. You can "Play All" on 1 Radio News once an hour and get a fresh experience. See this chart from Flurry: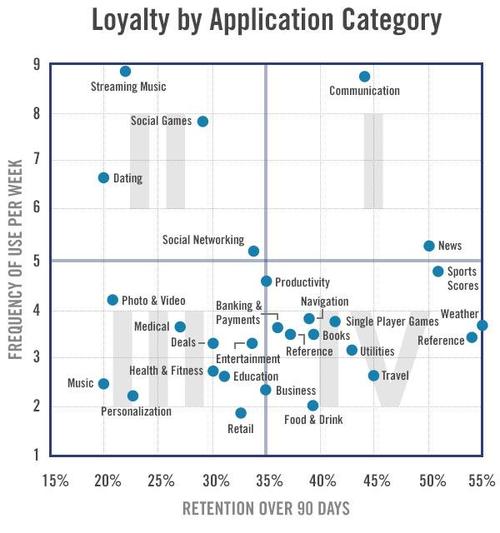 Depending upon what stats you believe, 1 Radio News Free, has a strong retention rate and our paid app is off the charts.
Someday, we might even reach the "short head" will a million installs, but first we need to get to 50,000 free downloads, the next level that earns you a "sticker" on Google Play. 🙂
With more ratings from our fans (our 4.7 rating for Pro is outstanding), more sharing, and more installs we can add new features and platforms (like iOS, Roku, Windows 10, and more) to bring quality news radio from around the world to many more people. Spread the word.
P.S. 1 Radio News Pro is in the top twenty of all paid apps in Google's News and Magazine category.