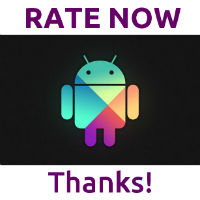 With a 4.8 to 4.9 rating, 1 Radio News Pro is in the top 10 to 25 of PAID News and Magazine apps on Google Play depending upon the day.
According to researchers we've been contacted by, 1 Radio News Pro is one of most popular paid apps around. Thank you users!
A huge thanks goes out to our Pro users. It is your contribution that is helping pay for our coming 2.1 version that add hundreds of on-demand shows.
Like our many pro users, try out the free version and if you want many many more English speaking news/etc. stations that are almost impossible to find online, go pro!